Find possible outliers in a data frame
The function find_outlier() may be used to identify possible outliers in a dataframe. It is suggested that before applying any statistical procedures, outliers be checked out.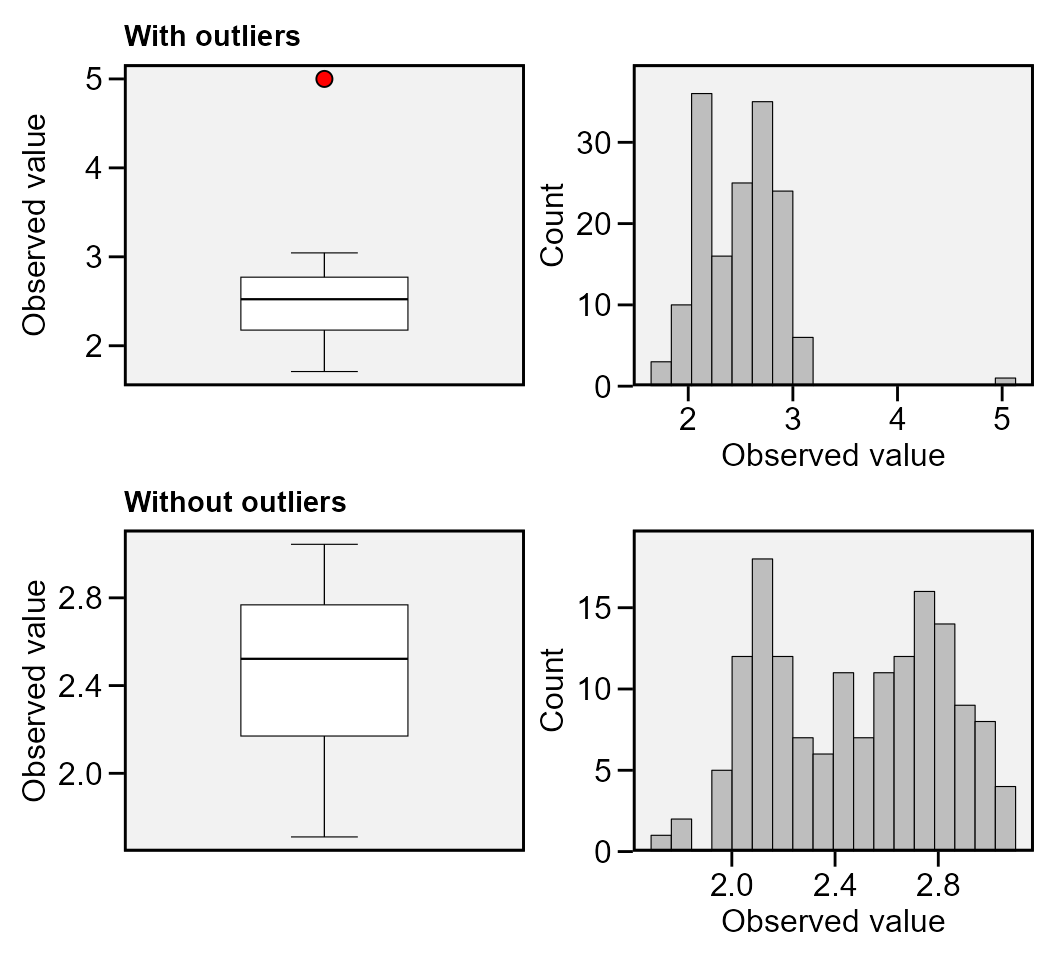 To check the outliers in different levels of a factor, use the argument by. As an example, we will find possible outliers for each level of the factor ENV.
To group by more than one variable, use the function group_by() is used.
Collinearity diagnostic
The following codes compute a complete collinearity diagnostic of a correlation matrix of predictor traits. Several indicators, such as Variance Inflation Factor, Condition Number, and Matrix Determinant are considered (T. Olivoto et al. 2017; Olivoto T. et al. 2017) The diagnostic may be performed using: (i) correlation matrices; (ii) dataframes, or (iii) an object of class group_factor, which split a dataframe into subsets based on one or more grouping factors.
Using a correlation matrix, which was estimated earlier
Perform the diagnostic for each level of the factor ENV
Canonical correlation analysis
First of all, we will rename the plant-related traits PH, EH EP with the suffix _PLA to show the usability of the select helper contains().
Clustering analysis
Mahalanobis distance
Based on designed experiments
Compute one distance for each environment
To compute the Mahalanobis distance for each environment (or any grouping variable) we can use the argument by. Note that pairs_mantel() is used to compare compute the Mantel's test for each combination of distance matrices. Let's do it.
If I have the matrices of means and covariances
Lets suppose we want compute the Mahalanobis' distance for each pairwise genotype comparison based on cob-related traits. Note that the function select(contains("C")) is used to select the cob-relate traits, after computing the mean for each genotype.
The next step is to compute the variance-covariance matrix for the means. The first approach combines R base functions with some functions from metan package to compute the covariance matrix. Of course, the simplest way is by using cov().
After computing the means and covariance matrices we are able to compute the Mahalanobis distance using the function mahala().
---
Rendering engine
This vignette was built with pkgdown. All tables were produced with the package DT using the following function.
#References
Olivoto, T., A. D. C Lúcio, V. Q. Souza, M. Nardino, M. I. Diel, B. G. Sari, D .K. Krysczun, D. Meira, and C. Meier. 2018. "Confidence interval width for Pearson's correlation coefficient: a Gaussian-independent estimator based on sample size and strength of association." Agronomy Journal 110 (1): 1–8. https://doi.org/10.2134/agronj2017.09.0566.
Olivoto, T., Nardino M., Carvalho I. R., Follmann D. N., Ferrari M., de Pelegrin A. J., V. J. Szareski, de Oliveira A. C., Caron B. O., and V. Q. Souza. 2017. "Optimal sample size and data arrangement method in estimating correlation matrices with lesser collinearity: A statistical focus in maize breeding." African Journal of Agricultural Research 12 (2): 93–103. https://doi.org/10.5897/AJAR2016.11799.
Olivoto, T., V. Q. Souza, M. Nardino, I. R. Carvalho, M. Ferrari, A. J. Pelegrin, V. J. Szareski, and D. Schmidt. 2017. "Multicollinearity in path analysis: a simple method to reduce its effects." Agronomy Journal 109 (1): 131–42. https://doi.org/10.2134/agronj2016.04.0196.