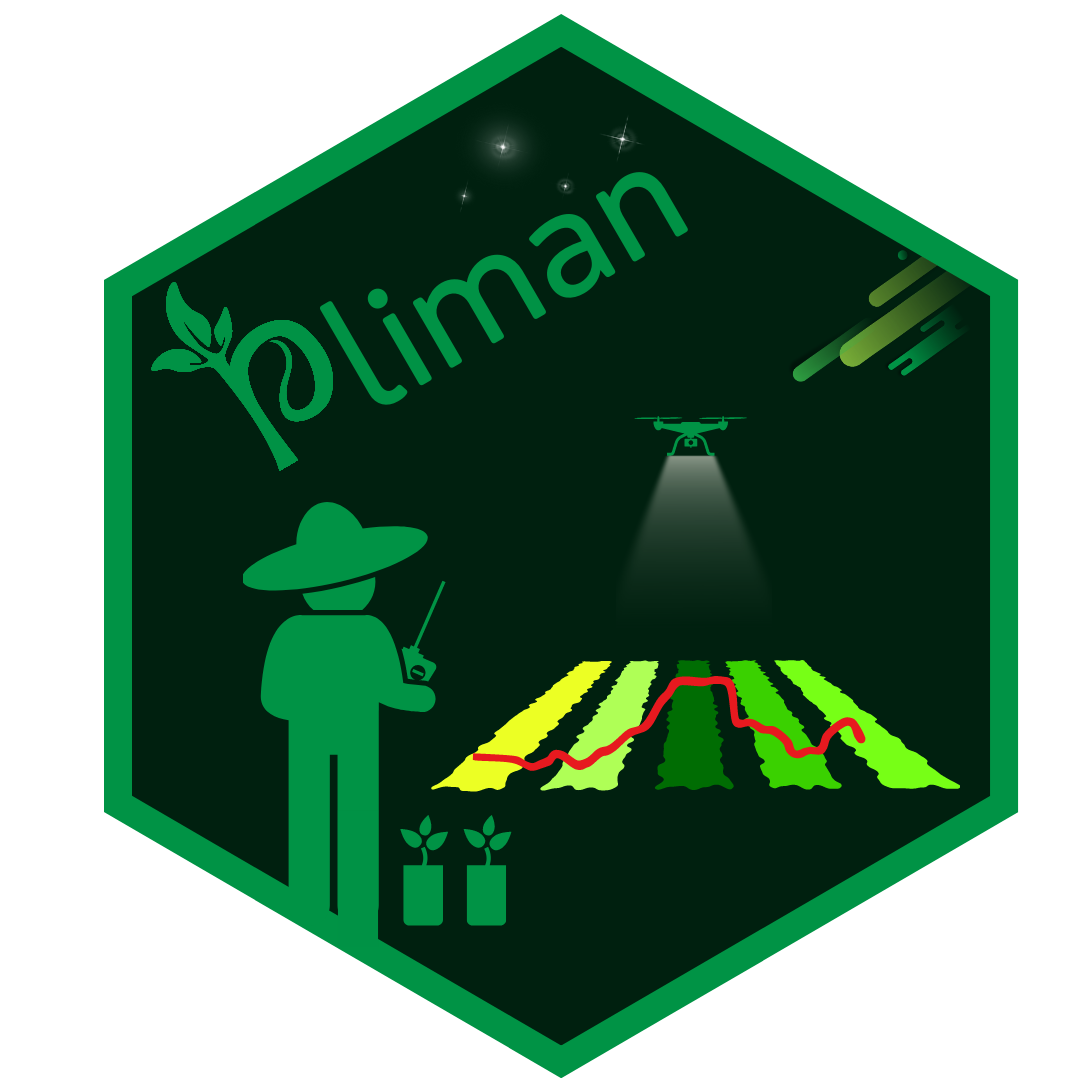 Changelog
Source:
NEWS.md
pliman 2.0.1
New functions
object_export_shp() and object_export() to export objects from an image to multiple images in the current working directory.
plot_index_shp() to plot rectangles on top of an RGB image, where each rectangle is colored based on a quantitative variable.
Bug fixes
Fix bug in poly_center() by calling the column position instead column name (X1)
pliman 2.0.0
CRAN release: 2023-07-15
New functions
analyze_objects_iter() to execute an interactive section of analyze_objects().

measure_disease_byl() to measure disease severity 'by leaf' in an image with several leaves.

object_split() to split multiples objects of an image into a list of images.

pca(), plot.pca(), get_biplot() as helper functions to perform Principal Component Analysis.

rownames_to_column(), column_to_rownames(), separate_col(), round_cols() as helper functions to manipulate data.

A set of poly_*() function to analyze polygons. All of them are based on a set of coordinate points describing the edge of the object(s). See ?utils_polygon for more details.

get_wd_here() and set_wd_here() to deal with working directories.

apply_fun_to_imgs() to apply a function (or functions) to a set of images stored in the working directory.

make_brush(), make_mask(), and image_segment_mask() to create masks and segment images based on such a mask.

image_segment_manual(), image segment kmeans(), and image_segment_mask() to perform image segmentation in different ways.

A new family of efourier_*() functions to performs Elliptical Fourier Analysis.

A new family of landmarks_*() functions to handle landmarks

object_edge() to detect edges in images using Sobel-Feldman Operator.

A new family of *_shp() functions to analyze shape files.

New plot_index() function to plot an image index using raster package, and optionaly using the mapview package to show the image index.

New image_view() function to create an interactive map view of an image. This function allows users to interactively edit and analyze an image using mapview and mapedit packages.

New image_prepare_mv() function to prepare an image to be analyzed for analyze_objects_shp(). This function aligns and crops the image using either base or mapview visualization.
pliman 1.1.0
CRAN release: 2021-12-10
Minor changes
Deprecated functions in the last version (count_objects(), image_show(), leaf_area(), objects_rgb(), prop_segmented(), and symptomatic_area()) were removed.
Use Bootstrap 5 from pkgdown 2.0.0 in the package site.
pliman 1.0.0
CRAN release: 2021-11-09
Minor improvements
Include fill_hull argument in symptomatic_area() and count_lesions()
Improve image_contrast() function to avoid error regarding image resolution.
New argument subfolder in image_export() to export an image to a subfolder.
Now EBImage installation is checked when pliman is installed.
image_pliman() now returns the image object instead of the path to the image. So, it is not necessarily to call it within image_import().
pliman 0.3.0
CRAN release: 2021-06-10
New functions
image_autocrop() for automatic image cropping.
image_filter() to perform median-based filtering.
image_contrast() to improve contrast by performing adaptive histogram equalization
object_coord() to get the object coordinates and (optionally) draw a bounding rectangle around multiple objects in an image.
object_id() to get the object identification in an image.
object_isolate() to isolate an object from an image.
prop_segmented() to perform (iterative) image segmentation with pixels proportion.
pliman 0.2.0
CRAN release: 2021-05-15
Includes the suggestions given by the CRAN team in the first submission